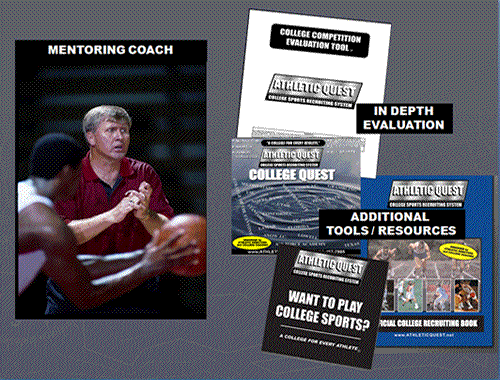 NEED EXTRA HELP GETTING YOURSELF SEEN AND RECRUITED BY COLLEGE COACHES?
We have a staff of former college coaches that will guide you through the steps you need to take, keeping you both on track and on target!
NOTE: A STUDENT ATHLETE MUST PRE QUALIFY TO PARTICIPATE IN THIS PROGRAM. Contact Athletic Quest at 1(800)467-7885.
The Premier Mentoring Package includes:
1.
ANNUAL PLAYER PACKAGE
for your first school year in our Mentoring Program. Player Profile(s) (one per sport), unlimited use of College Sport Search, College Saver Tool, College Notes Feature, Instructional Product and Official College Recruiting Book (specific school year). **To Preview go to WWW.ATHLETICQUEST.NET. *Will give you instant access to web searches.
2.
NATIONWIDE COLLEGE CONTACTING
- AQ will directly contact every college in the
U.S.
that offers the sport that CLIENT participates in and that CLIENT may qualify for both academically and athletically. AQ will enclose personal Player Profile and updated data and send to all colleges 2-3 times by the end of your Senior Year.
3.
COLLEGE INFORMATION SYSTEM
- Provides detailed information of all colleges in the
U.S.
for Client to research and use.
4.
N.C.A.A. REGISTRATION
- Assist CLIENT in registering with the NCAA CLEARINGHOUSE to meet eligibility requirements and complete all 4 Steps.
5.
"HOW TO
GET
RECRUITED"
Instructional
DVD
/Video.
6.
2 SPORTS WORKOUT / PRACTICE PROGRAMS
- One Sport Specific Skill Workout / Position Specific and one Athletic Skill Specific Training Workout. Developed by
Former
College
and Pro Coaches.
7.
"HOW TO FUND YOUR COLLEGE EDUCATION" Book
- Provides detailed information on ways to fund your college education.
8.
"YOU MUST HAVE GOALS TO SCORE GOALS" Book -
Learn to use, work with and apply goals to sports and everyday life.
9.
"HOW TO STUDY" Book
– Written by a Team of Professional Educators. Designed to develop Easy to Use Study Habits. TOP 10 Methods of how to raise your grades!
10.
REGULAR GAME PLANNING SESSIONS
with a former COLLEGE COACH to mentor the Student Athlete/Parents through the entire recruiting process. Monthly Checklists to help you progress in Academics, Goals, Finances, Marketing, Sports Training, Planning, Designing Workouts as well as other items relevant to recruiting steps and activities to maximize your opportunities.
THE #1 RATED RECRUITING PROGRAM IN THE COUNTRY!
Call today for more details! 1(801)253-3360 or 1(800)467-7885.