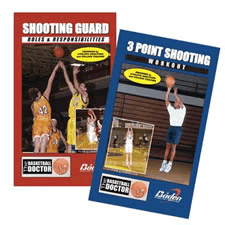 Basketball: Without great perimeter play and shooting, no team is complete!
Learn over 70 lessons and tools to master this critical position. Also receive the #1 rated 3 Point Shooting Workout avaliable with 10 different types of 3 point shots for games!
The BASKETBALL DOCTOR will teach you to shoot better, smarter, faster and more often, increase your assist average and learn how to become a complete player from the 2 spot! Used by college and NBA teams. Includes a one hour daily workout and dozens of training tools, tips and techniques.
It's all here in one great package!
Package includes:
1. THE SHOOTING GUARD: Roles & Responsibilities.
2. 3 POINT SHOOTING WORKOUT.