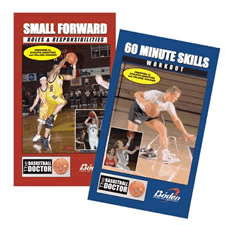 Basketball: How to be the BIGGEST player on the court!
Typically the Small Forward is the most versatile player on any team. They need to play inside or outside and run the fast break. The BASKETBALL DOCTOR has designed a total package packed with dozens of drills, tips and techniques. Complete with a one hour workout and more than 70 lessons and tools for this vital position. Used by college and NBA teams.
A complete package to become a complete player and an All Star from all areas of the court!
Package includes:
1. THE SMALL FORWARD:Roles & Responsibilities.
2. SMALL FORWARDS WORKOUT.