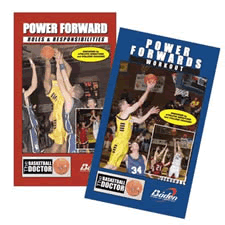 Basketball: Become a dominant force with this power package for Power Forward play.
Learn from the BASKETBALL DOCTOR and use a one hour daily workout for skills. Over 70 lessons, tools and techniques to become a great low post force in the paint and on the boards. Learn how to lead your team, average a "Double/Double" (points & rebounds) and improve your all around game.
Used by College and NBA teams.
Package includes:
1. THE POWER FORWARD:Roles & Responsibilities.
2. POWER FORWARD WORKOUT.