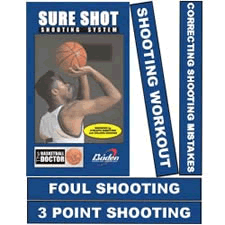 Basketball: Shooting has never been easier to learn or teach than this!
This series includes hudreds of tools, drills and tips for learning or improving perfect shooting mechanics, mindset, target site, game shots and game spots. Also improve shooting skills with practice drills, how to correct common problems, a Shooting Workout, Foul Shooting and 3 Point Shooting - It's all here!
The most complete shooting series ever produced. Endorsed and used by College and NBA coaches and teams.
Let the BASKETBALL DOCTOR get you shooting better and faster then ever before!
Package includes:
1. SURE SHOT SHOOTING SYSTEM.
2. CORRECT COMMON SHOOTING MISTAKES.
3. SHOOTING WORKOUT.
4. FOUL SHOOTING.
5. 3 POINT SHOOTING WORKOUT.