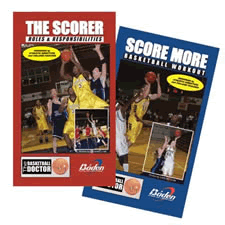 Want to score more points? With this one of a kind scoring package you can!
BADEN BASKETBALL proudly presents The BASKETBALL DOCTOR, basketball's #1 skills clinician!

Learn 70 Lessons and tools to become a better scorer, five easy ways to score more, and 10 moves to increase your scoring by up to 10 p.p.g. Find out how to make good reads in order to make good moves, how to read and attack defenders, and how to score more against zones. Footwork and moves, how to finish, the mindset of a scorer and so much more!
SCORE MORE NOW!
Package includes:
1. THE SCORER-Roles and Responsibilities.
2. SCORE MORE WORKOUT.