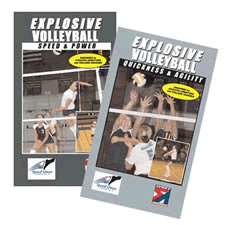 Get yourself going with this exciting new EXPLOSIVE VOLLEYBALL Series!
Improve your muscle memory, speed technique, force application and generation, recovery mechanics, transition time, foot quickness and more that specifically simulate volleyball movements.
Designed by the world's leading experts on speed and athletic skills, SPEED QUEST, now you can accelerate to greater success with these prime time workouts used by the pro's! In only 30 minutes a day you can improve foot speed, quickness, jump and total athleticism!
Get the step on your competition!
Package includes:
1. Explosive Volleyball-SPEED & P0WER.
2. Explosive Volleyball-QUICKNESS & AGILITY.