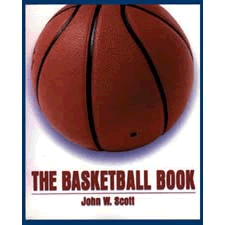 The Basketball Book: Featuring The BASKETBALL DOCTOR, Coach John Scott!
This incredible book contains over 800 illustrations, graphics, training tips, and drills. The Basketball Book is the most comprehensive basketball fundamental book EVER!! All basketball players and coaches will benefit from this book.
Having played and coached at every rung of the basketball ladder, from High School to College to Pro, Coach Scott knows what he is talking about! Learn the secrets of how to get to the TOP of Basketball SUCCESS by starting at the BOTTOM with the fundamentals!
Chapter Topics Include:
* Shooting.
* Scoring and the Triple Threat.
* Foul Shooting.
* Three Point Shooting.
* Ballhandling.
* Rebounding.
* Passing.
* Dribbling.
* Defense: Individual and team.
* Cutting, Screening, and Pivoting.
* Fast Break Fundamentals.
* The Mental Game of Basketball.
* Basketball Dictionary.
* Motivation.
* Sportsmanship and Attitude.
* History of the Game and Chronology.
* TOP 25 Backyard Basketball Games.
* Where to Play and Coach the Game.
* and much, much more!!
ENDORSED BY: The BASKETBALL HALL OF FAME; Red Auerbach (Boston Celtics); National H.S. Coach of the Year Bob Hurley Sr.; Basketball Digest; and many others!