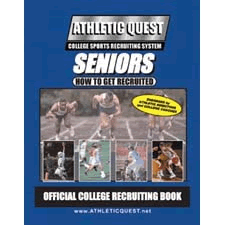 Want to play sports at the COLLEGE level?
Although many athletes have interest, few actually know what it takes to succeed at higher levels of competition. Now YOU can learn how!
The "How To Get Recruited" instructional book will bridge the gap from High School to College and give you a step-by-step program to follow for recruiting success. Including...
1) Learn the different levels of College competition.
2) Discover what College Coaches look for in athletes.
3) Find out how to Market Yourself to College Coaches.
4) Learn how to choose the best college for you both Academically and Athletically.
5) Learn How to Get Recruited.
6) Much more....
Your time is running out! "How To Get Recruited" includes a Monthly Calendar and Checklist that will provide details of what you need to do EVERY month of your Senior Year in order to play college sports. ESSENTIAL READING FOR ALL SENIORS!