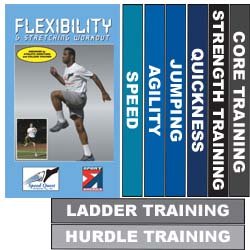 Want to be one second FASTER, one step QUICKER or Jump HIGHER? Then this training series is for you!
Learn the Fundamentals of Footwork, PlyoMETRICS, PlyoQUICKNICS, Speed strength, Short Burst Explosion, Core Strength for Power, Range of Motion Mechanics, Innervation, Balanced Body Building and dozens more!
Gain the knowledge, master the motor mechanics then beat the competition - SPEED KILLS! Pick two programs and practice twice weekly, then rotate another two programs every two months. Used by NFL, NBA, Olympic and MBL athletes! Great for team drills and development.
Only serious athletes need to apply!
Package includes:
1. FLEXIBILITY & STRETCHING.
2. SPEED & ACCELERATION.
3. AGILITY & COORDINATION.
4. JUMPING & ELEVATION.
5. QUICKNESS & EXPLOSION.
6. STRENGTH TRAINING.
7. HURDLE TRAINING.
8. LADDER TRAINING.
9. CORE TRAINING.